So today before work I decided to do a Sunday Social link up....
Its been forever and I really liked the questions this week!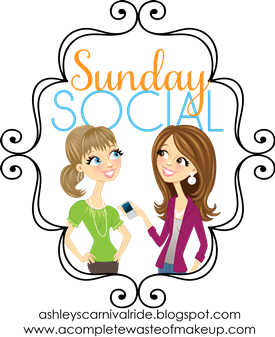 What is your ideal way to relax?
I love to either lay in bed and watch Hulu or any Reality TV or with a glass of wine read a book which I rarely get to do!
Where is your favorite place to be?
I love to sleep so my bed is at the top of the list. But definitely where ever my boyfriend is and my parents because they make me feel safe.
Who do you consider your biggest roll model?
My mom has always been my biggest role model since I was a kid.
She joined the military, had to discharge early to raise me so young and her life has been dedicated to taking care of my family. She is the toughest person I know and is the reason I am so independent and driven.
She has kept it together through a lot of tough things and I appreciate her so much!
What does your life look like in 3 years?
Working in my career (finally!) that I enjoy.
Being Married would be nice!
My own place and a dog!
Very simple :)
If you could go back and change one decision what would it be?
I like to say that everything happens for a reason so I know that things are the way they are for an important reason or lesson. But I would go back to college and choose a different major my sophomore year. I am now on the pursuit of becoming a teacher and if I had chosen Education as a major I would definitely be in a different place. But that would have meant different friends, different path, so my life would not have some of the people I adore now in them.
What is your biggest accomplishment in life thus far?
Graduating college is still a big accomplishment for me. I did it in 4 years and even though I haven't really used my degree to get that job I was shooting for, I made my parents so proud by accomplishing something they never got a chance to do.
XOXO