So I absolutely love Instagram. I got my iphone in January and it was one of the FIRST apps I downloaded. I love taking pictures and since I don't carry my camera around as much anymore (even though I should) I am so happy that I am able to use my phone to do so and post it! Its amazing what a world we are living in now where most people in your life can know whats going on with you just by reading a couple lines on Twitter, or checking out pictures on Facebook. A picture is worth a 1000 words( especially when it comes to my friends and family!) and I love that everyone can enjoy them in one place. So my first ever link-up is going to be using my favorite app on my phone....Life Via Instagram. I got this from Ashley at
After Nine to Five
. Enjoy!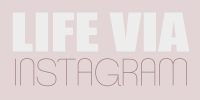 From Left to Right:
1. My cute top that I wore to Brunch with two of my sisters Wendy and Lisette. I love taking pictures of my hair and my top of the day! Its hard to do a full body shot! lol
2. Peach Bellinis! These were delicious. We had brunch at this cute little place called "The Briar Patch" on Park Ave in Winter Park...so cute and quaint (never thought I would use that word!)
3. Ginos Pizza downtown Orlando...where I tend to always end my night of bar hopping and dancing the night away with my friends. We always meet some characters!
4. I tend to always take at least one picture of myself a week. This is just because my mother is always asking for pictures to send to her and I am and avid Facebook profile pic updater (i like people to be updated on how I look *yes you can laugh*)
5. Another eventful Saturday night. Since we travel in a pack (like 6-7 deep) we tend to always find people who want a bunch of girls to dance around in their VIP and drink their champagne. Its not an everyday thing, but that night was really fun!
6. Sunday night I was able to cook a really outstanding meal for myself and watch the Heat game! I love to cook and any chance I get I try to improve my skills :) Pork Chops, green beans, and butter herbs noodles were on the menu that night.