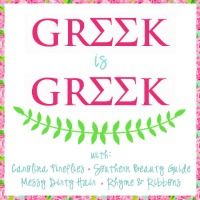 Greek life is something that people usually only associate with college.
When it comes to being Greek, for me...its for life.
So I was really excited about this link up!
I can share things that I have been doing even after my time in school!


The organization I became a part of (Mu Sigma Upsilon)
focuses heavily on alumni interaction and the impact we have on our universities and communities.
Even after I graduated college I have been very active in my sorority.
My sorority is a Multicultural organization (meaning that my founders were focused on having sisters from every cultural, ethnic, and religious backgrounds). Me being Guyanese and African American I was fascinated the fact that I could be around so many different women from different places brought together for one purpose. We are spread all over the country but it doesn't matter. We always come together for big events and even for just some fun.


Now onto to what I wanted to share...
Awhile back I talked about something called Strolling.
Also known as "party hopping, or party walking" this along with stepping is something that I love to do with my sorority. I've competed in step and stroll competitions since I became a sister in 2007.
I was even Captain of our Step/Stroll team when I lived in Florida from 2008-2012.

This is a perfect opportunity to show those of you who don't know what the hell I'm talking about.
I have some pics and videos that showcases the awesomeness that is Greek stepping and strolling.
Check me out 2nd from the left :)
can you see me??? 3rd from the left
Greatest moment since I've been a sister!
Being on this team was stressful but so much fun and it was all worth it in the end! The hard work and dedication required is not for everyone so its not a requirement in our organization to step or stroll.
Now on to stepping...
Check my sisters up North out. (sisters from PA, NY, NJ, and VA all on one team!)
If you have time to watch the whole thing you can see the theme, costumes,
and steps were well thought out and planned.
We won 1st place here as well. (2011 was a good year!)
Glad I was in the audience in PA to see it live!
So there you have it.
A little insight into what fun opportunities I have to do in my sorority.
I think I'll be strolling and stepping for as long as my body will let me.
Some of our lovely sisters at the 30th Anniversary banquet in Orlando, FL in 2011