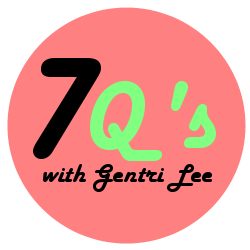 Today is my first time doing the 7 Questions so i'm really excited!!
(dont ask...lol)
1. It's back to school time! Are YOU going back to school?
I graduated from college in 2008. I am definitely considering getting my Masters but that requires M-O-N-E-Y and i'm still paying off my loans from my bachelors!! But I would love to get my Masters in Higher Education. We shall see in the next year.
2. Speaking of back to school... You receive 10 pts if you can name this movie:"Don't you love New York in the fall? It makes me wanna buy school supplies. I would send you a bouquet of newly sharpened pencils if I knew your name and address. On the other hand, this not knowing has its charms."
I confess that I had to look up this movie. You've Got Mail is such a cute movie though. I haven't seen it in forever so I may dig into NetFlix and see if they have it!
3. Who did you hang out with in school? Cool kids, jocks, nerds, were you a loner, etc? (all are welcome here- btw)
I would say that I was a floater....I was a cheerleader so that was considered a "cool kid" and a "jock" (cheerleaders were big time competitors at my school) but I was also Student Body Vice President so I was frequently around "nerds". I hung out with everyone so everyone liked me. No problems there. I think thats how it should be. Everyone can find at least one common interest you just have to take the time to find it.
After School Beach times were frequent!
4. What was your favorite subject in school?
Anything that required my creative juices to flow. I loved English (i was able to write about whatever I wanted) and Theater (I was creative director) and Event Planning (planning a department banquet for my College). I tend to not do well in math or science....ZZZzzz

5. (I've asked this question before, but it was a while ago) If you had to go back and redo one of the following, which would you choose and why? Preschool, Elementary, Middle School, High School, College?
I would definitely do Middle School over again because I might have become interested in other sports. Or I might have taken more opportunities in activities and experiences. Everything happens for a reason but I think I might have a different outlook on sports or maybe not have wasted time doing certain things.

6. Home/ Packed Lunch or School Lunch?
School Lunch!! Going to school in Hawaii was a great experience and one thing that I lucked out on was amazing and delicious school lunch! Okay well maybe not amazing but most of it was really tasty! Chicken sandwich and Kalua Pork (yummy) Days were the most popular and we had a salad bar and Nacho Day and great things. Not as healthy as it should have been but it kept us happy.
circa 2004

7. What's more exciting? The first day of school or the last day of school?
Definitely the first day of school. I love getting new clothes and new school supplies (yes getting new pens, paper, and notebooks) and the anxiousness of new classes and people. The last day of school is more of a relief and excitement to just be done! But the first day is kind of awesome because you get a fresh start.
Hope everyone has a great day!